This is Matt Chisholm's typographic portfolio.
Click on a font name on the left to view it.
Press the right arrow key (➡) to page through the fonts.
Internet Explorer does not support all the features of this site. This site is best viewed in Firefox, Safari, or Chrome.
Anadolu, sans-serif typeface, 2008—2009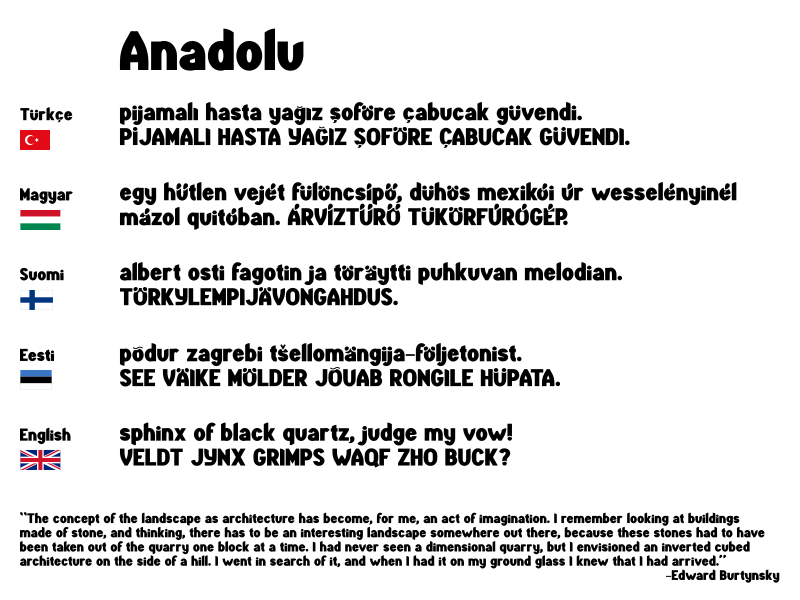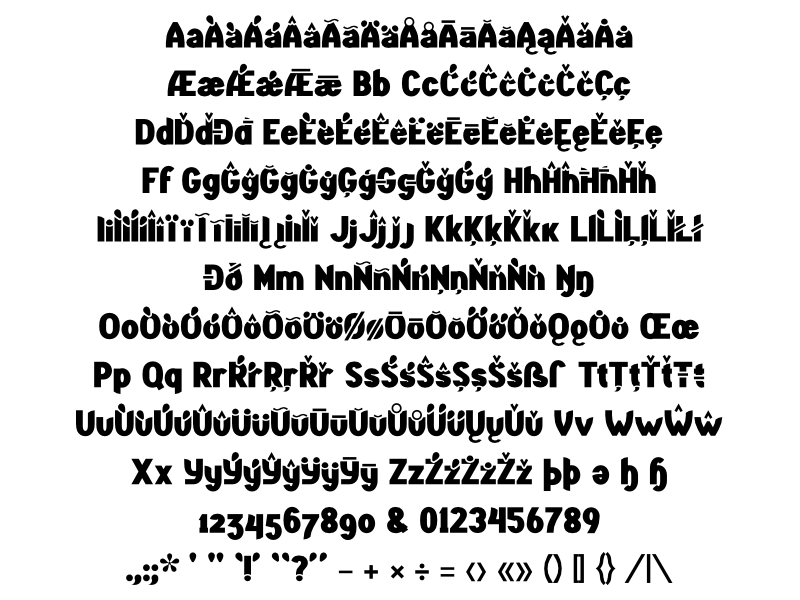 Buy Anadolu now at MyFonts.com!
Anadolu was inspired by the distinct style of sign lettering in rural Turkey, and refined based on sign lettering in Hungary. Shown here are samples in Turkish and Hungarian, as well as Finnish and Estonian, two other languages in the Finno-Ugric language group with Hungarian.
The slight curve at the tops of ascenders and bottoms of descenders is inspired by the linguistic process of "vowel harmony" in Turkish and Hungarian.
Anadolu is the Turkish name for Anatolia, the peninsula where Turkey lies. The name recalls another sans-serif typeface named for its country of origin.
The tittle on the i is reimagined as a diacritic, and the dotless ı is reimagined as the basic, prototypical i.
Too many typefaces treat diacritics as afterthoughts. Since diacritics are integral to the languages that inspired Anadolu, they were designed as core components of the typeface.
Click here to purchase a copy of Anadolu for $24.99 at MyFonts.com.
Ljubljana, sans-serif typeface, 2005—2006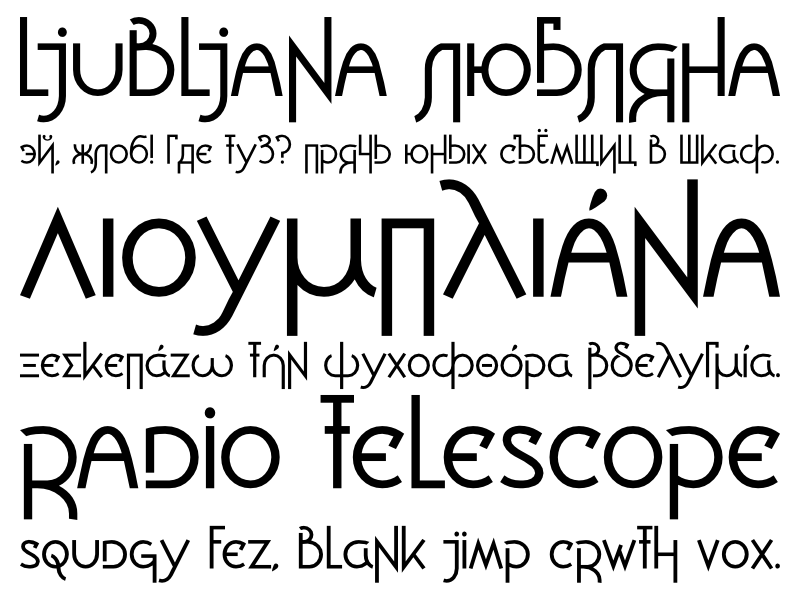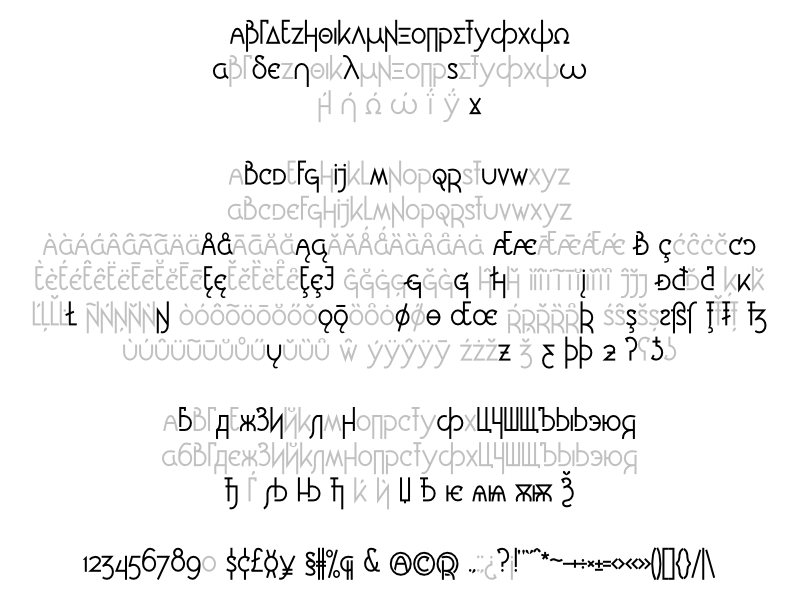 Buy Ljubljana now at MyFonts.com!
Ljubljana was inspired by art deco lettering seen in Slovenia, Croatia and Romania. It includes the Latin, Greek, and Cyrillic alphabets. It is named after the capital of Slovenia.
Ljubljana is unicase, composed of as few basic glyphs as possible. The basic glyphs are shown in black, and the derived or duplicated glyphs in grey.
Ljubljana attempts to encapsulate the essence of both upper and lower case designs in a single glyph. It also explores the common origins of the Greek, Latin, and Cyrillic alphabets, using the same glyph in more than one alphabet.
Click here to purchase a copy of Ljubljana for $19.99 at MyFonts.com.
Haylurker, serif / blackletter typeface, 1999—2006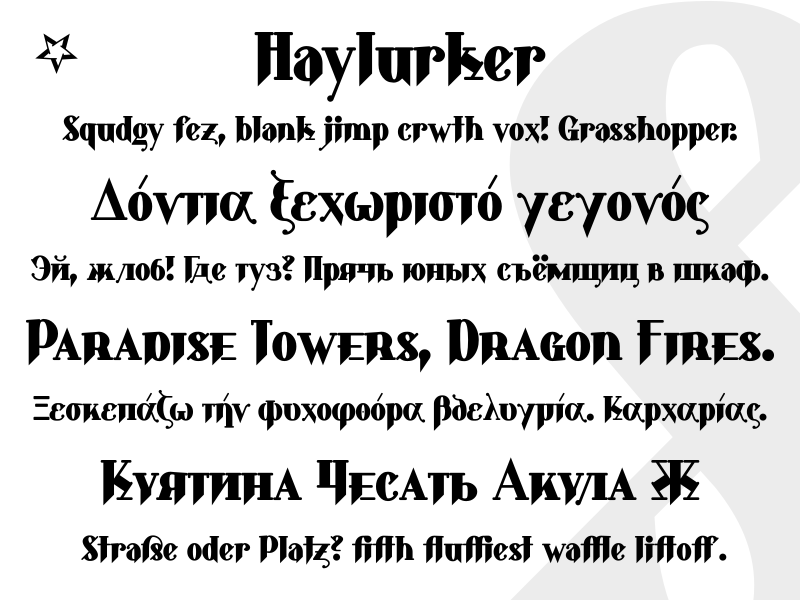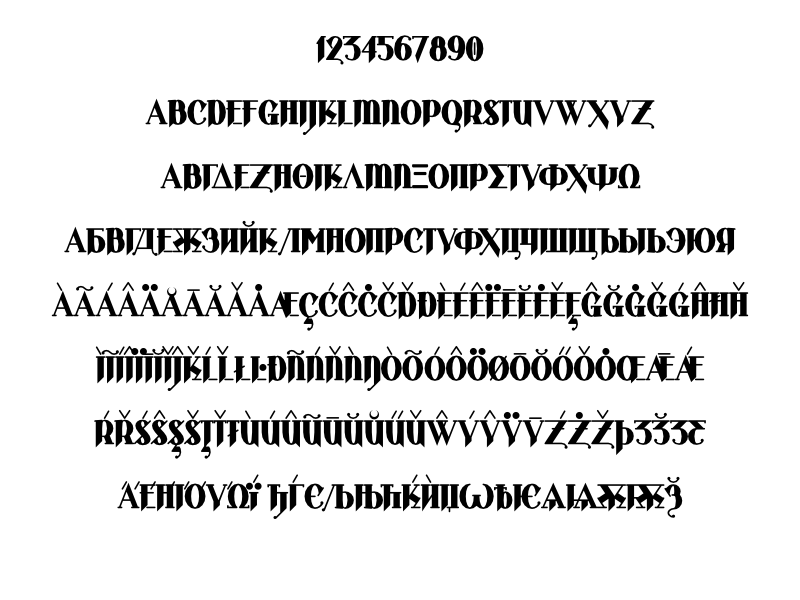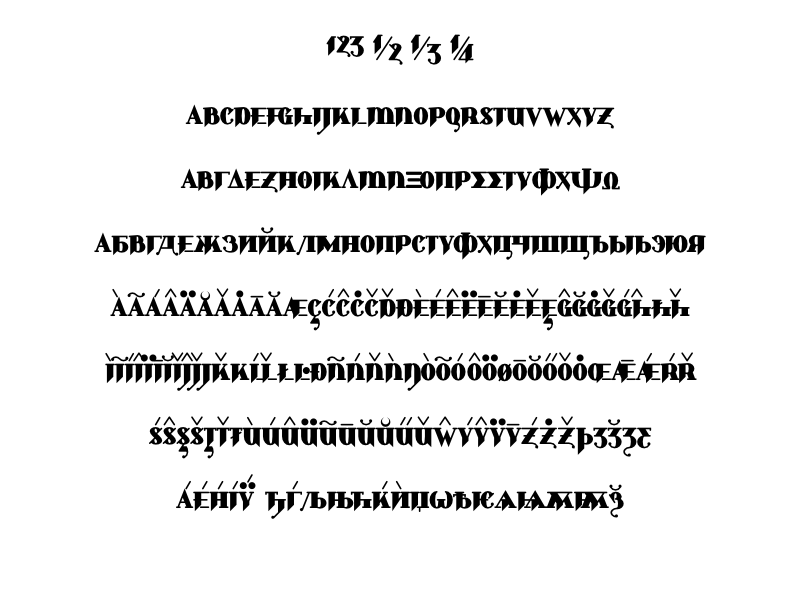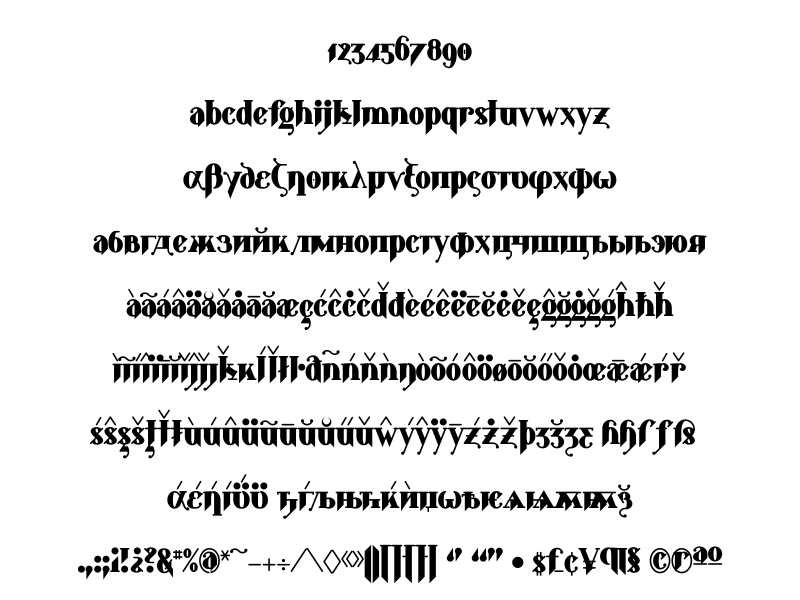 Buy Haylurker now at MyFonts.com!
Haylurker was originally designed, as Shark, for the masthead of The Fish Rap Live!, the alternative student newspaper at the University of California at Santa Cruz.
Haylurker attempts to combine blackletter elements at the bottom of the characters with a unique serif forming a solid line at the x-height.
The K and Cyrillic Ж are reminiscent of the legs of a cricket or grasshopper; Blackletter is historically German. Therefore, the name is the direct translation of the German word for grass-hopper, Heuschrecke.
It includes the Greek and Cyrillic alphabets, small capitals, and a full set of accented characters.
Click here to purchase a copy of Haylurker for $24.99 at MyFonts.com.
Breuckelen, decorative typeface, 2007—2008.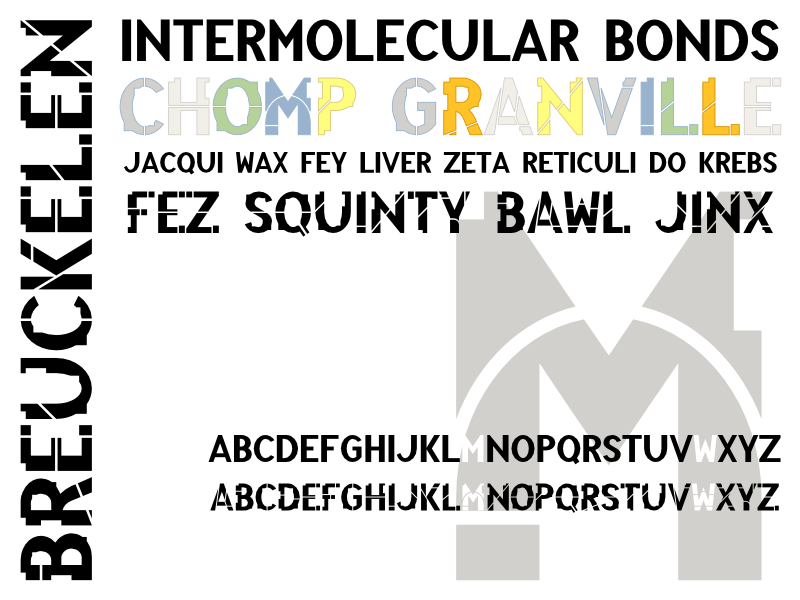 Buy Breuckelen now at MyFonts.com!
Breuckelen was inspired by the regular patterns of the New York City plan. The grid of any large modern city is immediately recognizable by the distinctive pattern of major roads curving or slanting through it. This face is intended to be recognizable in the same way. It is named after the Dutch town after which Brooklyn is named, a word which also roughly translates as "broken land."
Click here to purchase a copy of Breuckelen for $14.99 at MyFonts.com.
Zenith, decorative typeface, 2008.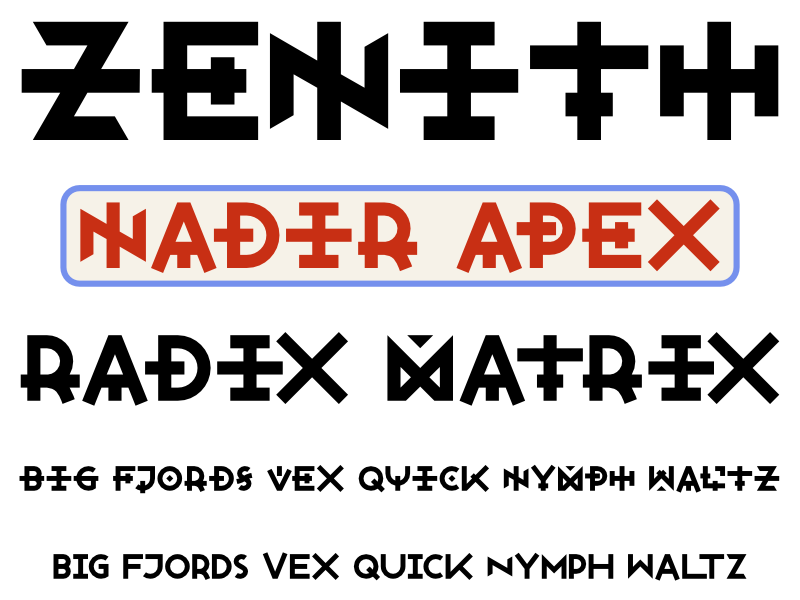 Buy Zenith now at MyFonts.com!
Chinese characters have simplifed and more complex, "traditional" variants. Zenith imagines what an un-simplified, traditional version of the Latin alphabet might have looked like.
Click here to purchase a copy of Zenith for $9.99 at MyFonts.com.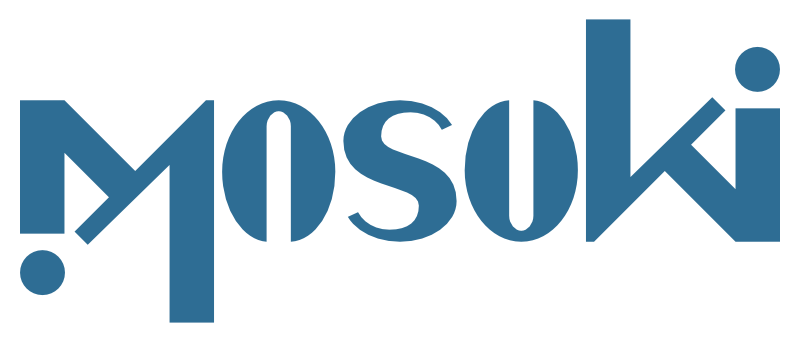 This logo is an ambigram—it looks the same when rotated 180°. The name Mosuki was chosen in an attempt to find a word that meant "mobile society" in Japanese; unfortunately, no Japanese speakers were consulted, and it has no real meaning.

Spydentify is a game where users upload and attempt to identify images, including images of typefaces. The design is meant to be a fusion of American baseball jersey scripts and 1960's era psychedelic poster lettering.
Intent, tattoo, 2009

Design for a tattoo of the word intent, with:
"...its various shadings of noun and adjective intention and intentness:
"attention, focus, decision, purpose, design, meaning, significance, aim, plan, plot, mark, end, object, target; fixed, firm, decided, resolved, earnest, intense, concentrated, resolute, engrossed, bent upon, sedulous, eager in pursuit, absorbed, alert, attentive, bound, committed, concentrated, deep, eager, engaged, hell-bent, immersed, industrious, piercing, rapt, riveted, watchful."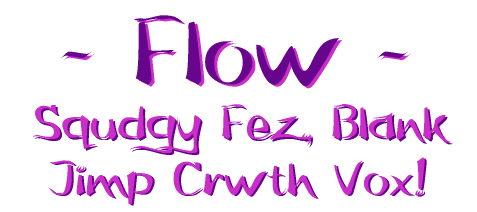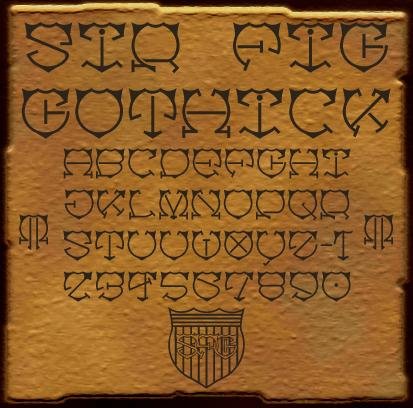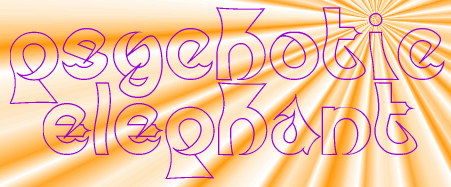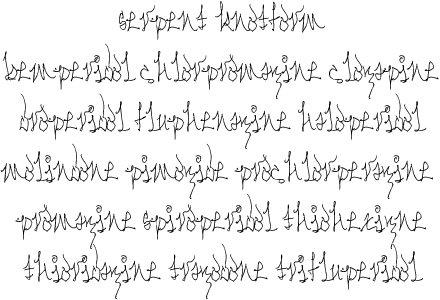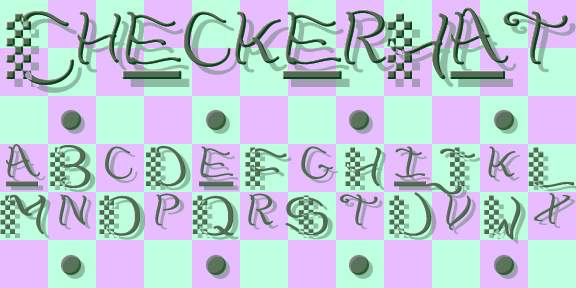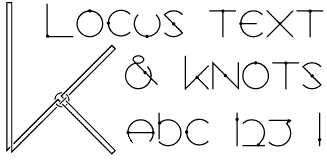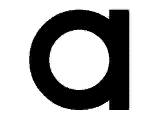 Collaboration with Roland Berger.

Collaboration with Javan Bryant.

Collaboration with Rutherford Gong.

Collaboration with Susan Wilson.

Collaboration with Alex Chisholm.

Based on found typography.

Based on the lettering on a Grateful Dead album.

Based on the titling on Quantum Leap.
Mac OS Bitmaps, 1994—1996
These bitmaps were designed for on-screen use at small point sizes. These fonts will only work on Mac OS X and Classic Mac OS. They will not work under X11 or Windows. (Email me if you can help me make them into working bitmaps on X11 or Windows.)
Please consider making a small donation.
I am an independent designer struggling to make a living doing something I love. If you use my fonts in a logo, brochure, flyer, or other publication, a donation is the perfect way to thank me. If you would like to see more free fonts, a donation is the perfect way to encourage me.